The platform's creator marketplace could disrupt influencer marketing agencies
Ad Week – TikTok is a hub where influencers build up their net worth, average people take stabs at internet fame and brands either make effective or cringe-worthy attempts to connect with Gen Z. The platform has been considered a long-time threat to media like YouTube and Instagram, but one of TikTok's growing capabilities could potentially disrupt a whole new sector of business: influencer marketing agencies. 
"TikTok is helping us not only pick the right people, but shape the right content," said Jess Tinetti, group strategy director of content at Atlanta independent agency Dagger. Instead of turning to an influencer marketing agency, which is Dagger's typical move when clients want to work with creators, Tinetti tapped into TikTok's Creator Marketplace.
Tinetti is not the only marketer with their eyes on the TikTok Creator Marketplace, which connects brands and creators through all steps of an influencer marketing campaign, from creator discovery to post performance and payment. While other platforms, including Meta and Snap, have a similar service, TikTok's platform offers the most advanced, white-glove product, according to three agency sources.
On the surface, TikTok's Creator Marketplace seems like a one-stop shop for marketers—they can discover creators without involving a middle man, ensure content feels native to the platform and drive efficiencies. But in practice, the platform isn't meant to serve every type of influencer marketing campaign. For marketers who seek more guidance and deals with flexible terms, influencer agencies might still have an edge, according to conversations with marketers, creators and consultancies.
What TikTok offers
TikTok Creator Marketplace was launched in 2019 and now has more than 100,000 creators. As platforms increasingly engage in an arms race for creators, Adrienne Lahens, global head of operations at TikTok Creator Marketing Solutions, says the marketplace is a way to help TikTok retain top talent. Snap, Meta, TikTok and Youtube have all launched creator funds since 2020, doling out millions of dollars to incentivize creators to make content on their platforms.
"We're investing really heavily in creator marketing," she said. "Creators are the lifeblood to TikTok, so it's imperative that we provide a variety of solutions to help creators monetize on the platform."
TikTok does not charge advertisers to use the service, nor does it take a cut of the transaction between brand and creator, Lahens said.
Lindsey Lehmann, director of influencer and branded content at PMG Digital Agency, said that with Creator Marketplace, marketers can find data, license music, conduct brand lift studies and access data all in one place. "They are able to find a lot of efficiencies in one offering," she said.
For marketers already diverting a portion of their media budget to TikTok, working with the marketplace is cost effective and gives them access to top talent, according to Ross McCormack, vp director of social strategy at Havas Media Group.
"These people really understand what resonates on the platform and that's really compelling for brands," McCormack said.
TikTok allows marketers to find creators through two mechanisms—searching through their database and inviting a creator to participate, or open application campaigns, a newer option where brands can post a brief summary of their campaigns and creators can reach out if they're interested.
"It really democratizes the selection process," Lahens said. "For brands who might have had a very set idea of who they were looking to work with on a campaign, this introduces them to creators they didn't think about."
The influencer agency advantage
TikTok Creator Marketplace may give marketers a bevy of tools, but it doesn't teach them how to fish. For help with campaign strategy at a high level, a traditional agency is still the best place to turn, according to Nate Jones, head of influencer marketing at Gen Z marketing agency JUV Consulting.
"It's super helpful in connecting brands and creators," he said. "It was the obvious next step for a brand like TikTok, but I still think there's a lot of room for folks like us because we're not simply connecting a creator to a brand. We are coming up with a concept and creative, curating a campaign and thinking holistically about what that campaign will look like."
Lahens said Creator Marketplace isn't intended for those new to influencer marketing.
"TTCM [Tik Tok Creator Marketplace] is primarily a self-serve platform. TTCM is great for brands to use that are familiar with creator marketing," Lahens said. "For brands who require far more hand-holding in that process, that's what our larger agency ecosystem is there to support."
McCormack said that the marketplace provides brands with vetted, high-level talent with big followings and can be a good opportunity for a creator to work directly with a platform. But creators have more mixed experiences working directly with TikTok. Influencer Camila Vilas, who has worked with brands like Sephora and Coach, was inclined to delete her account after making a profile due to an influx of "spammy brand deals."
"The deal flow is consistent, but typically priced lower than deals found through agencies and management," said Griffin Johnson, co-founder of Gen-Z focused agency HawkeZ. "I see it being a very popular tool for micro influencers as a side hustle but it will not change the entire landscape."
Some creators may be able to make more money outside of Creator Marketplace because working with individual agencies gives them more leverage. McCormack said that there is much more flexibility in negotiating contract terms with a traditional influencer agency than through the platform.
In the end, even Tinetti of Dagger, who is excited about the opportunities TikTok Creator Marketplace can bring social marketers, decided against finding talent through TikTok for her campaign.
"We still believe this will be where the landscape shifts, but we're seeing that platforms like TikTok have some work to do to make sure they can offer the full service that brands and agencies are looking for when it comes to creator campaigns," Tinetti said.
While the Creator Marketplace and influencer marketing agencies could work against each other, shops could also take advantage of the platform to manage "an influx of outreach from brands," according to Erik Huberman, CEO of agency Hawke Media.
"For agencies it could just become another tool to leverage while servicing their brand clients that are wanting to reach these influencers," he said.
Movie studio Lionsgate has made a big splash on TikTok since joining the app in July 2020. The company nearly doubled its TikTok follower count over the past six months by finding social-media friendly videos from its content library and recutting clips to riff on current TikTok trends and memes.
The page is run by Lionsgate social-media manager Sebastian Crank, with oversight from the company's brand manager Eric Dachman and VP of digital strategy Kathy Arendain.
"TikTok has such a contained world in that there's inside jokes on TikTok and sort of a language on TikTok that doesn't really translate to the other social platforms very often," Crank told Insider in September.
Clips from Lionsgate films like "The Hunger Games" and "Twilight" have performed particularly well on the app. And its team isn't afraid to dip its toes into trends that other brands may shy away from, like a recent video sampling audio of Miranda Cosgrove cursing.
"There are times where we will toe a line, but we do have guardrails in place to make sure that we're not completely crossing a line," Arendain told Insider.
The TikTok strategy for Lionsgate is led by:
Sebastian Crank, social media manager
Eric Dachman, director, brand engagement
Kathy Arendain, VP, digital strategy
Read more: How the team behind Lionsgate's viral TikTok uses humor, nostalgia, and trends to boost movies like 'Twilight' and 'John Wick'

Manscaped: 467,000 TikTok followers
Manscaped starting creating original content for TikTok early on, when it joined the platform in August 2019.
Led by Tyler Wentworth, Manscaped's director of social media, the company's TikTok account quickly built an audience by quickly hopping onto and capturing emerging trends in posts, as well as starting candid conversations about male grooming.
In addition to racking up nearly 467,000 fans, Manscaped's TikTok page has garnered over 50 million views across more than 500 videos.
The startup, which is currently gearing up for an initial public offering, has since expanded its content to feature more members of the Manscaped team. Its also partnered with influencers including Tampa Bay Buccaneers tight end Rob Gronkowski to promote its products.
Netflix: 22.3 million TikTok followers
While Netflix may be considered the dominant force in streaming, it also has a strong social media presence, particularly on TikTok.
That's thanks to the work of employees like Netflix manager of brand and editorial Kelli King, who shepherded the launch of Netflix's TikTok account in August 2019 and grew it to 22.3 million fans in under three years by understanding the algorithm in relation to Netflix's consumer offering and picking content that users would engage with and share with most on the platform.
King also works with title teams across the marketing division to hone their TikTok activations and pull the most conversational moments. Some examples include the Anna Delvey "I Do Not Have Time For This" scene from "Inventing Anna" which quickly went viral, as well as "Squid Game's" Red Light/Green Light Squid Game moment, which racked up 128 million likes.
"I will sometimes watch Netflix series and films with my eyes closed to see if I get the TikTok 'vibe' as audio is key to content's success on the platform," King said. "You need to imagine someone using your audio to tell their own story."
Netflix director of publicity Seana Johnson, meanwhile, has helped define Netflix's presence on TikTok when it comes to red carpet events for projects like "Bridgerton," "Stranger Things," and "Don't Look Up." She has also helped fine-tune how to best work with TikTok creators by focusing on their individual fandoms and providing unique opportunities to attend select events, interact with talent, and create content that's organic to their channel. Under Johnson's guidance, Netflix became the first streamer to be featured on TikTok's main page.
"Whether we are matching up creators that are Broadway fans for 'Tick, Tick…Boom' or going live via the @TikTok channel for Netflix red carpet events, we've found a sweet spot by leaning in to what feels organic to the platform and approaching it through the lens of connecting fans with the titles and talent they love," Johnson said.
The TikTok strategy for Netflix is led by:
Kelli King, manager, brand and editorial
Seana Johnson, director, publicity
Ryanair: 1.6 million TikTok followers
Ryanair's social-media strategy has long centered on posting playful and self-deprecating content. But the budget airline really hit its stride on TikTok, where buttoned-up branded content doesn't fly.
Like other successful companies on TikTok, Ryanair created a mascot — an airplane with a human face appended on its nose — to be the face of its brand on the app. Its social-media team posts videos highlighting its cheap prices while also making jokes about its flights' relative lack of amenities. Recently the company began testing putting actual humans in videos to avoid being dependent on the single airplane-with-a-face gimmick.
The key to Ryanair's TikTok success is hiring in-house creators who dedicate time each day to understanding the app's latest trends, Michael Corcoran, the company's social-media lead, told Insider.
"We've put Gen Z at the heart of the platform," he said. "Somebody who lives and breathes the channel day and night. Somebody who actually understands the language and the references and the cultural trends that are happening within the world of TikTok."
The TikTok strategy for Ryanair is led by:
Michael Corcoran, head of social media
Lily Raffety, social media creator
Megan Kennedy, social media creator
Amy Lynch, senior social media manager
Luke Colgan, social media graduate
Scrub Daddy: 1.2 million TikTok followers
A social media account about a cleaning company that produces sponges, scrubbing heads, and soap dispensers shouldn't be funny, but Scrub Daddy's TikTok account manages to find a comical side to cleaning accessories. That's in large part to Scrub Daddy CEO, president, and founder Aaron Kraus, who has been hands-on with the company's TikTok account and captured in posts doing product giveaways and partying when Scrub Daddy's TikTok account was verified in December 2021.
"TikTok has absolutely been transformative," Kraus said. "It already took our brand that's well known and disseminated it to an entirely new segment of the population that didn't know about us and didn't know how much fun we were.
Scrub Daddy's irreverent attitude has obviously struck a chord, racking up 1.2 million followers and roughly 1 billion views since it was created in July 2020, as well as celebrity users like musician Jason Derulo, who toyed with a Scrub Daddy sponge last in a TikTok post last December.
Disclosure: Mathias Döpfner, CEO of Business Insider's parent company, Axel Springer, is a Netflix board member.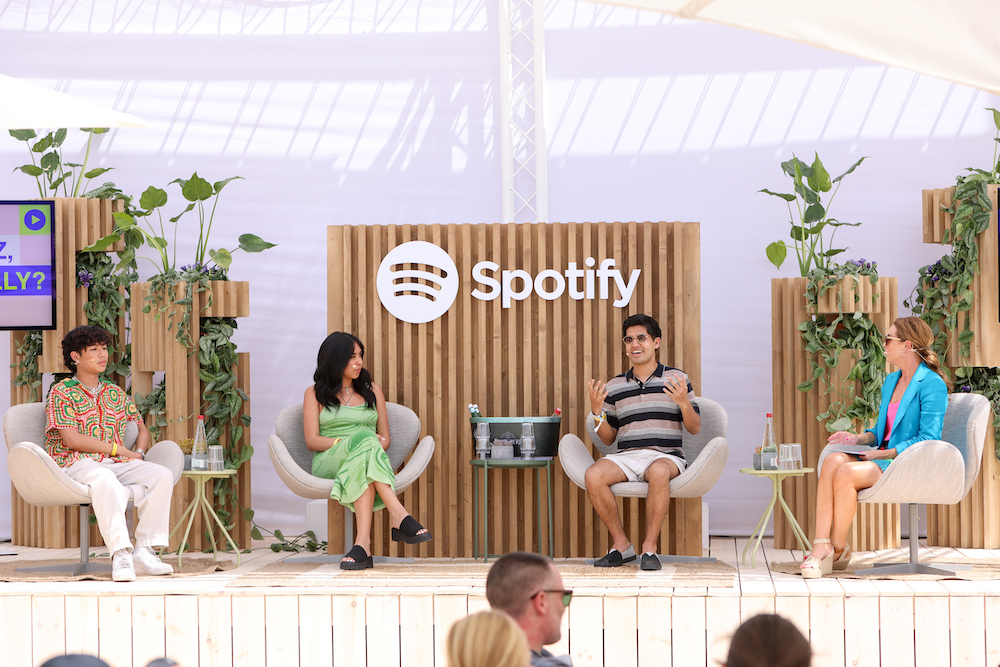 "With Gen Z, we want brands to be authentic and honest about their values and their fallbacks too. Gen Z can see if they're trying too hard or being fake. And that doesn't mean perfect. We aren't perfect either, but you have to tell the truth. It goes a long way with building a foundation of trust and honesty." – Kayla Suarez
"Brands talk for Gen Z. . . . I think the best way to get young people onboard is to include them in the conversation and let them have influence." – Thomas Pham
"Mental health being top genre for Gen Z—it doesn't blow my mind. It is surprising to me to meet a Gen Zer who self-identifies as happy. Especially coming out of the pandemic. Am I happy? Am I fulfilled? A lot of people came out of this with really mixed conclusions, and we had nowhere to turn for the next step . . . platforms like Spotify help us feel heard, seen, and inspired." – Ziad Ahmed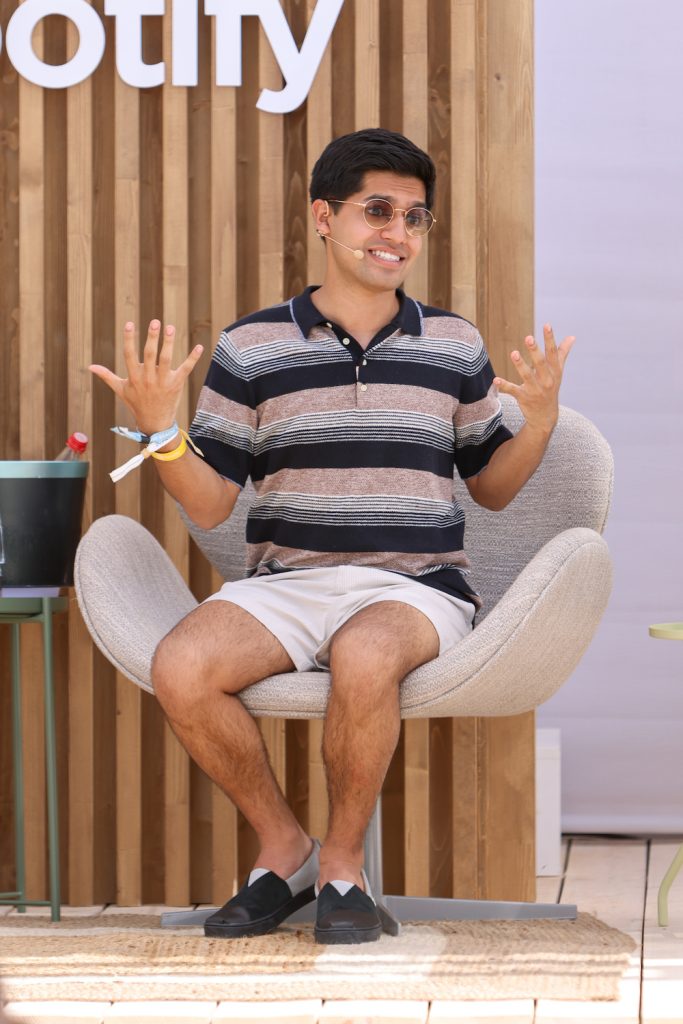 Maisie Williams and the power of authenticity
Also on Monday, Dustee sat down at Cannes' Female Quotient Lounge with Game of Thrones actress, activist, and producer Maisie Williams to talk authenticity, female empowerment, and her podcast, Frank Film Club with Maisie Williams. "Women in our industry always second-guess themselves, but you have to fight that and band together," Maisie explained during the talk. "There is a place for all women, and if you have an ambition or goal of who you want to be or what you want to do, you have to be relentless in getting yourself there." The actress also shared the artists she's currently listening to on repeat: Kate Bush and Grace Ives.
Bringing diversity front and center
On Tuesday, Jemele Hill, sports journalist and host of the podcast Unbothered, joined Cofounder and Vice President of the Society of Voice Arts and Sciences Joan Baker for "Representation Behind the Mic." Moderated by Spotify Vice President and Global Head of Marketing Taj Alavi, the group discussed the importance of diversity and ongoing efforts to bolster inclusivity. Here are some of the insights.
"I think outside voices are driving culture. I think when you think of the history of this country, culture has always been driven by marginalized communities." – Jemele Hill
"There are all kinds of voices of color; not everyone has to sound stereotypical to be a Black voice." – Joan Baker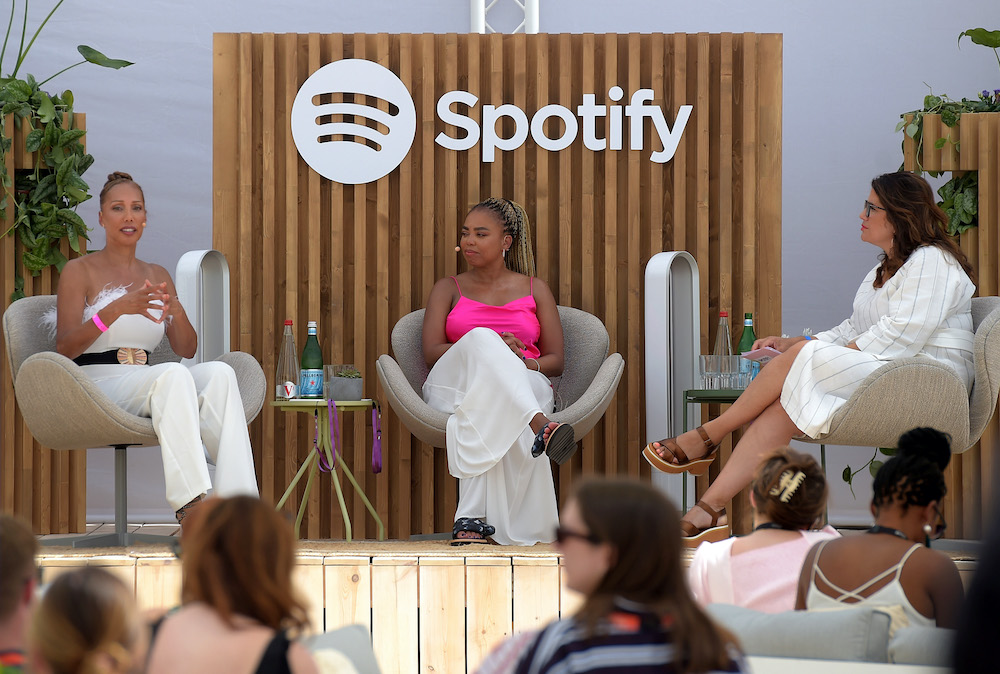 Gotham City comes to Cannes
Batman Unburied cemented its place in history as the largest Spotify Original fiction podcast global launch of all time. So at Cannes, we helped guests "Dive Into the Batman Audio Universe."
Spotify Chief Content Officer Dawn Ostroff hosted a discussion featuring key cast members and creative executives of the series: Winston Duke, voice of Batman/Bruce Wayne; Hasan Minhaj, voice of the Riddler; and Peter Girardi, EVP of Alternative Programming for Warner Bros. Animation. The conversation explored why audio was the perfect platform to tell this story, how acting for an audio series differs from film or TV, and the technology they utilized to give listeners a thrilling experience.
And fans of Batman Unburied got an extra surprise at the event: Spotify is bringing our fearless Caped Crusader back for season two, where more adventures await.
"With audio and podcast storytelling, particularly in this format, the user just needs to use their imagination. You have to imagine what you're seeing in your mind, and it's an incredible experience, calling upon each person to be more engaged." – Dawn Ostroff
"We [Warner Bros.] do so many different kinds of projects with the DC IP, and every medium allows you to tell a different kind of story. But one horizon that we've never been able to work in is audio-only. And the scale of the stories you can tell, and the different kinds of stories—it's very exciting for us and brings a new fan base and a new appreciation of the IP that we may have not reached [previously]." – Peter Girardi
"While we were recording Batman Unburied, it really felt like we were doing TV storytelling and a video game at the same time; it felt like a live RPG."- Hasan Minaj
"It's always been joked that Bruce Wayne's superpower has been white privilege, and I had to go through this period of really imagining and setting myself free to find a way in. This man who completely distrusts the justice system so much that he decides to take it into his own hands—this feels a lot more than the diasporic Black experience that I knew." – Winston Duke
And while these panels spiced up the day, Spotify kept the heat on the beach at night with our Spotify Beach parties. Over the course of the week, a star-studded guestlist saw performances by Marcus Mumford, DJ Pee .Wee (Anderson .Paak's alter ego), Kendrick Lamar, Dua Lipa, KAYTRANADA, Post Malone, and The Black Keys.
Click here to view additional photos from the Spotify events.