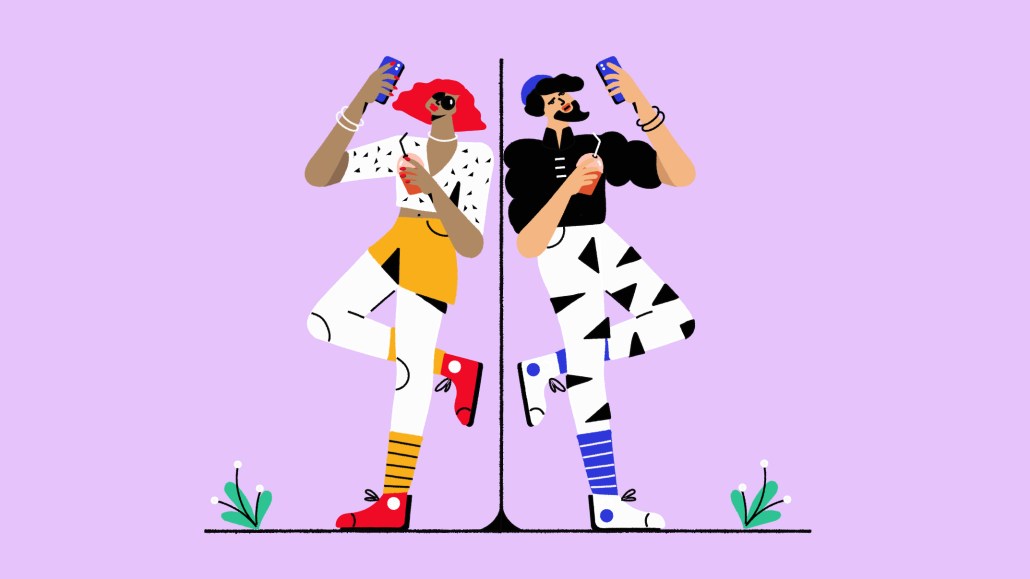 Two days after Head of Instagram Adam Mosseri tweeted a video last month addressing user concerns about the app prioritizing video over photos, another tech exec seized the moment. Wearing glasses and a yellow sweatshirt that made him look strikingly like a Mosseri clone, Dispo co-founder and CEO Daniel Liss tweeted his own video two days later making a pointed pitch to everyone looking for a social network that puts photography at the center.
"In fact, we don't even offer video," Liss said in the video while also hinting at how other apps prioritize advertisers over users. "We're about using photos to make memories, share those with your friends and look and feel good with photography. Secondly, our priorities as a company are fun and mental health."
Since relaunching last summer, Dispo — which uses the phrase "good vibes only" and takes inspiration from disposable cameras — has continued to focus on photo-sharing even while most other apps increasingly invest in video. But whether its big bet can fill the photo void, take on the Goliaths, compete with a growing group of competitors and also make money in the process is a picture still waiting to develop.Enter your email to get Digiday's Daily newsletterclose dialogConvince people you know what a DSP isSign up for Digiday's Daily newsletterSIGN UPI'd also like to receive information about Digiday programs and events
The competitive landscape and volatile shifts in user trends have left every social app "straddling the dangerous chasm between being nobodies and being cloned," said Corey Austin, director of innovation strategy at the creative agency Cheil Dallas.
After seeing Dispo's video last month, Digiday spoke with Liss to learn more about the company's contrarian strategy and the progress of the past year. In an interview, he said Dispo's approach isn't just about betting on the photo format: It's also a bet on how people want to spend time online. The way Liss puts it, upstarts like Dispo, BeReal, Poparrazi and others that have small user bases in some ways help each other by collectively competing against incumbents that have hundreds of millions or even billions of users.
"One of the key theoretical questions, architectural questions, right now is if social media is entertainment-focused or is it about building connections with people," Liss told Digiday. "Is it the proverbial bowling club? Is it about taking our communities in the real world and bringing them online? A photograph, an album of photographs, captures a moment in time. People have emotional connections to photographs."
While other apps clone each other's features to keep people using their own apps, Dispo — which first debuted in February 2021 — slowly develops photos digitally from the day before and only published new ones once a day at 9 a.m. each morning. Within the app, various camera filters give users ways to change aesthetics without significant editing — a way to experiment with trends like nostalgia and authenticity — while various photo "Rolls" can be private or public photo collections.
"People want to have fun with photography again and that's hard to do," Liss said. "You've seen in the last 18 months of social products. One investor said to me: 'The photo-sharing wars are back, but now it's a war of ideas.'"
Beyond the algorithm, fresh angles and fresh starts
Unlike Facebook and Instagram, Dispo also doesn't prioritize content with an algorithm. Liss said that helps de-incentivize the race to gain millions of followers on platforms like TikTok or create certain types of photos to rank higher. Instead, it's focused on fostering smaller groups based on various real-life communities such as fraternities and sororities at dozens of colleges. (According to Liss, around 90% of users are under the age of 24.) Last year, the company had an ambassador program in which college students could apply to help promote the app on campus or help manage different communities. Dispo also creates some Rolls based on cultural moments, themes, events and cities; others are created by communities themselves.
"I don't even think it even has to do with just video versus photo," said Dispo Vice President of Community TJ Taylor, who was previously community director at Raya, the private social network. "But it's also about feeling the realness of the person…Everyone is just wanting this realness in whatever form it comes in."
Compared to most social apps, Dispo is still very small. So far, it's had 8 million downloads and has 1 million monthly active users, according to Liss. The biggest month for growth was in May 2022 when it had more than 540,000 downloads ahead of the summer break—more than triple the 144,000 downloads it had in May 2021—but last month it had just 120,000 downloads. Despite Dispo's small size, the giants are describing it as competition — at least legally. In April, Meta—the parent company of Facebook, Instagram, Messenger and WhatsApp—subpoenaed Dispo and dozens of others while trying to prove it isn't a monopoly.
When the original invite-only beta version of the app debuted in February 2021, it quickly gained traction and attention — thanks in part to the popularity of co-founder David Dobrik, a Vine and YouTube star who got the idea in 2019 after posting his disposable camera photos to Instagram which then inspired similar accounts by celebrities and others. However, amid the momentum, he soon stepped down from his role at the company after being involved with a controversy unrelated to Dispo. (In March 2021, a former member of Dobrik's Vlog Squad was accused of sexually assaulting a woman in 2018.)
It's now been more than a year since Dispo relaunched in June 2021 with new $20 million Series A funding round and an array of advisors including famous photographers Annie Leibovitz and Raven Varona, NBA stars Kevin Durant and Andre Iguodala, actress Sofia Vergara and model Cara Delevingne.
"The North Star that got us all excited was the mission and how it was resonating with the community," Liss said. "And even if the news is what it was, we still had hundreds of thousands of teens and college kids having fun and feeling good about themselves using Dispo and having fun every day. That more than anything helped keep the lights on."
Nostalgia's appeal in art and advertising
So far, the app doesn't have ads and has only collaborated with a few brands, but that's partly because like other social networks Dispo often focus on user growth before monetization. For example, it worked with YSL Beauty on a campaign to create a Matte Cam, which influencers and others used to take photos on Dispo and re-post them on various social platforms. (The camera filter remains in the app but without the YSL branding.) Dispo also helped promote a couple of movies through a deal with Paramount and created custmo Rolls for music festivals such as Lollapalooza and Outside Lands.
Without ad dollars, the company largely relies on money from various venture capital firms, which is typical for early startups. Although Dispo isn't doing a major push for marketing dollars yet, some advertisers see the appeal even if they're not actively using it for campaigns. Marketers mentioned the platform's focus on photos, smaller communities, and retro skeuomorphic design that help set it apart. Others like how it's a place where users have a desire for authentic, casual content.
"Because TikTok is quite literally the giant in the room right now, it's kind of swallowing the old guard of how things used to work on some of these Web 2.0 platforms," said Luke Hurd, director of experience design at VMLY&R.
Ben Jones, head of Coolr Studios at the London-based influencer marketing agency Coolr, said the real test will be whether Dispo can get more creators from Instagram to Dispo since brands often follow. There's also still the question of whether people will keep using an app that's not aimed to get them addicted, noted Gartner director analyst Claudia Ratterman. She said some data gathered by the research firm's partners indicates that Dispo's retention rate isn't as high as other social media apps.
"Once you get the attention of the user, you need to make it amazing and apps need to be ready and capabilities strong," Ratterman said.
Not all digitally native photo aficionados think Dispo fills the void. Olivia Frary, a recent graduate of the University of Southern California, recalled downloading the app last year while in college but then not using it much. As someone who carries a physical camera everywhere, she preferred physical prints instead of Dispo's filters. Now a senior director of marketing at the Gen Z-led marketing agency JUV Consulting, Frary said brands want content that feels vintage or raw. And although it can be expensive to develop dozens of rolls of actual film, she thinks the digital equivalents still don't compare.
"We think we want Polaroids, we think we want film, we think we want all of these things that are pretty inaccessible just from a pricing perspective," Frary said. "But a lot of times, the more accessible options like apps or filters that maybe sort of make the photos look the same don't really cut it. Because at the root of the craving for nostalgia is a craving to cut through the filters and edits and the Instagram culture that has created this aura of fakeness."
Forum spotlights a generation poised to become the largest U.S. consumer group.
Berns Communications Group's Retail Influencer Network is convening an invitation-only CEO forum on September 12 aimed at revealing the mindset of Gen Z.
The event includes CEOs and other senior leaders from top brands such as Aerie, Alice + Olivia, American Eagle, Bubble, Coach, Forever 21 and many others. They'll be joined by thought leaders, business influencers and members of The Z Suite, a recently launched network of students and influencers from leading fashion and merchandising schools.
But why focus on Gen Z?
Well, aside from being digitally native, politically progressive, pragmatic, values-driven and highly diverse, Gen Zers are shrewd consumers with enormous spending power. Analysts estimate their current disposable income at $360 billion.
Stacy Berns, president and founder of Berns Communications Group, noted that Gen Z is set to become the largest U.S. consumer group in the next 10 years, "which makes it crucial for retail and brand executives to have a deep understanding of how the generation thinks and shops."
"However, there's currently a disconnect between Gen Z's values and shopping behaviors and retailers' attempts to connect with them," Berns said. "Our forum will bring together influential Gen Z founders, CEOs and thought leaders and C-suite executives from some of the generation's favorite brands to illuminate how Gen Zers differ from other generations and how they think about inclusivity, sustainability, the metaverse and other topics that are key to the future of retail."
Maya Penn, a Gen Z activist, three-time TED speaker, and founder and CEO of Maya's Ideas, said her generational cohort is quite different from others. "Gen Z has grown up in an era of unprecedented access to information and technology," Penn said. "We've watched the rise, fall and remixing of a number of industries from a young age, and have also been experimenting with nontraditional ways to find community and pursue career paths. I think there is also a unique flavor of authenticity that is deeply rooted in Gen Z culture overall."
Ziad Ahmed, the Gen Z CEO of JUV Consulting, said social media and how it is used is distinctive. "Obviously, no generation is a monolith, but when we zoom out, I think broadly what makes Gen Z distinct is that, to us, social media is a first language," Ahmed said. "We can 'think' in it — which has prompted us to fundamentally see the world differently. As a result of the fact that we have instantaneous access to so many voices, we have been dubbed the 'plurals,' indicating that we are a generation that thinks in terms of 'we.'"
Renee Klein, vice president of global digital experience and consumer marketing at Coach, said that Gen Z, more than any other generation, "values brands that share or align with their own personal values. Brands should evaluate how their purpose and values sit within the set of core values important to Gen Z, and the best way to share those values in a genuine and authentic way."
Stacey McCormick, senior vice president of marketing at Aerie, agreed and noted that Gen Z is a generation "that is deeply passionate about a number of social issues, from promoting mental well-being and empowering women to caring for our planet. Gen Z values purpose-driven brands while also pursuing affordable, on-trend products that are made using sustainable materials and practices."
Fay Shuai, a Z Suite member and student at the University of Pennsylvania, echoed McCormick and said, "In simple words, Gen Zers value people and the planet."
Shuai noted that Gen Z "cares immensely about other people regardless of differences, and particularly in the retail industry, we like to see diversity not only in executive retail leadership but also in the media, as it's important for people from all sorts of backgrounds to be represented. We also worry a lot about the health of our planet."
Shuai described sustainability as one of the most important environmental topics talked about by Gen Z. "We are all incredibly passionate about saving our planet, and in the retail world, the passion is apparent in our consumption patterns, such as purchasing secondhand pieces or buying from brands that give back to the planet. Gen Zers also care a lot about mental health and wellness," Shuai said.
McCormick said that Gen Z, as a highly engaged generation, takes "meaningful action to impact lasting change while placing their trust in companies that do the same. Gen Z's connection with the brands they support is deeper than loving a product collection — they care how things are made and align themselves with companies that share their core values."
Winnie Park, CEO of Forever 21, said Gen Z highly values authenticity. "Brands that win with this demographic take a longer-term approach to building loyalty through being transparent and relatable at every touchpoint, which ultimately leads to sales," Park said.
When asked about engaging Gen Z, Park said brands need to "meet them where they are — to have an organic, relatable presence in spaces they
already inhabit."
"The metaverse is a great example of a place where Forever 21 is authentically engaging with Gen Z by giving them tools to be creative and a space to express themselves," Park said. "This shift in our strategy signals our move from fast fashion to omnichannel brand relevance with a focus on Gen Z, who are not just digital natives but social natives as content creators and pioneers in social commerce and the metaverse."
Forever 21's strategic shift is clearly in the right direction. Simran Hussain, a Z Suite member who attends Emory University, said one of the best ways to engage Gen Z is to be creative and eye catching. "Gen Z has an average attention span of about 8 seconds, so brands need to either make content that communicates effectively within that timeframe or present something that convinces the Gen Zer to keep watching and stay invested."
Regarding current workplace dynamics, Gen Z is leading the charge in "quiet quitting," which is a trend where employees abandon the practice of going above and beyond for their employers. The goal is to improve work-life balance. But for a lot of Gen Z, quiet quitting is a statement that one's job doesn't define the person.
There's another key factor companies need to consider with workforce management and Gen Z: flexibility.
Theresa Watts, senior vice president of human resources, diversity, equity, and inclusion at True Religion, said she's baffled at how often she hears leaders complaining about the need to provide "a more flexible schedule for employees while also asking how they can be more attractive to Gen Zers."
"Recently, I had a conversation with a leader who was upset because when she spoke to a hybrid worker while they were working from home, the employee was not actually at home," Watts said. "I asked her, 'If the work is getting done, why do you care where she was doing it? The employee answered the phone, so they are clearly available and present. The work is getting done, so they are clearly responsible. What exactly is the basis of your concern?'"
Watts said Gen Z wants more flexibility and more control of their work. "It is bigger than work-life balance, it is more an issue of the ability to design their schedule," Watts said. "If this fits into the needs of the business and is doable, then why not let it happen? Why not provide that level of trust and autonomy?"
Watts said Gen Z wants purpose, inclusion, diversity and meaning. "They want to shop for brands that are transparent and have purpose and they want to work for brands that are transparent and provide them with purpose," Watts noted. "They want to know that their dollars in the stores and their contributions in the workplace
are meaningful."
Alec Beers, a Z Suite member attending Cornell University, said brands and merchants need to know that Gen Z values financial stability, mobility and lifestyle flexibility.
"They follow the markets and invest, but they are also always looking for the best opportunities to get ahead financially, in ways such as tapping into a side hustle or strategically saving up," Beers said.
Speaker lineup:
www.retailinfluencerforum.com
Last week our team attended the U.S. Travel Association's ESTO 2022 conference in Grand Rapids, MI, where we had a chance to learn about up-and-coming trends for destinations from several valuable sessions. For destination marketing organizations (DMOs) that missed the conference, we're sharing our top takeaways.
During the conference, we hosted our own episode of Destination Shark Tank. Our "Sharks" heard pitches of creative campaign ideas from three destination marketers. Congratulations to Visit Panama City Beach, State of Washington Tourism, and Visit Phoenix!
1. Collaboration is a powerful tool for DMOs
Now more than ever, partnerships between destination marketing organizations can be a powerful tool for engaging potential travelers and sparking interest. One example of promotional collaboration came from the Maryland Office of Tourism, who spoke about how they have partnered with DMOs across the state on weekly social media posts with dedicated themes, such as #MainStreetMondays, which showcased local businesses across the state, and #TrailsTuesdays to increase awareness of the Maryland trails systems.
VISIT FLORIDA spoke about how they were similarly able to deploy a unified brand strategy by teaming up with DMOs across the state in a co-op campaign to inspire Floridians to explore new parts of their state. This campaign proved successful, beating the 2024 projections by two years and proving a unified approach can benefit everyone.
Co-op campaigns can allow for a bigger impact by pooling the funding of several destinations. One example of a DMO that partnered with us for a co-op campaign was Auvergne-Rhône-Alpes Tourism, who teamed up with Atout France and seven city DMOs within the area on a co-op campaign to highlight diversity of the region, as well as the unique culture and offerings of each of the featured cities. By uniting their efforts and funds, the destinations were able to work toward a common marketing goal and see strong lodging demand increases across the region.
Co-op campaigns can be particularly beneficial to smaller destinations by giving them a larger presence in the marketplace. By pooling resources for content creation and showing the opportunities throughout a region, destinations can help inspire travelers that may not otherwise visit.
2. Generation Z's new perspectives on travel
Taking up 32% of the population and controlling $360 billion in buying power, Generation Z is quickly becoming a powerhouse for all businesses, including travel. JUV Consulting, a Gen Z marketing agency, spoke about what Gen Zs care about and how they think about travel.
The content that Gen Z is looking for and where they're accessing it is essential for DMOs to understand. According to our study on How Younger Generations Are Shaping the Future of Travel, 77% of Gen Zs are open to destination inspiration. But how you reach them is key — JUV Consulting shared that Gen Zs are drawn to niche content and unique experiences, rather than the traditional tourist spots. For travel inspiration and planning, they're using platforms like TikTok and Pinterest. According to JUV's data, 46% of Gen Zs get most of their travel inspiration from social media.
Additionally, regenerative travel is important to Gen Z. Many travelers in this generation are concerned about the environmental impact of their trips and want the brands they interact with to share these values and limit their impact. One example of a brand that does this well is Amtrak. Through sharing information about their limited environmental impact and options for working while in-route, Amtrak speaks to and engages Gen Z.
Looking forward, Gen Z is bound to have a large impact on the evolution of the travel industry, as they seek flexible travel options, regenerative tourism, and inclusive brands. For more information on the latest travel insights around sustainability and inclusive travel, check out our Sustainable Travel Study and Inclusive Travel Insights Report.
3. Rural tourism and hidden gems are on the rise
The rise of over tourism and the desire to escape crowds with the pandemic sparked a strong interest in rural tourism. As travel has picked back up, the interest in rural tourism and finding "hidden gem" destinations has remained.
Amy Zeigler, State Tourism Manager at the Iowa Tourism Office, explained how Iowa used digital state park passports to increase interest in exploring the rural areas of Iowa. Partnering with Travel Iowa, they released the passports in June 2020 for the 100th anniversary of the state park system, encouraging travelers to explore new areas. The campaign proved successful, resulting in 25,000 sign-ups and 50,000 check-ins. Due to the success, Iowa extended the passports to create ones for beer, wine, and distillery tastings.
The South Dakota Department of Tourism similarly launched a passport program several months ago, with the objective of highlighting every area of South Dakota to disperse travelers across the state. They put together a hidden gem location program, coordinating with state partners to include destinations across the region. As a result, 75% of locations have received check-ins from every region.
Data from our Sustainable Travel Study shows that consumers are increasingly looking for opportunities to travel sustainably and access off-the-beaten-path experiences in their future travels. As destination marketers think about the value that their location has to offer, it's important to consider how they can best showcase lesser-known spots.
If you're interested in learning more about the latest trends in traveler behavior, download our recently released Q2 Traveler Insights Report to learn more about how your brand can connect with travelers. We hope to see you next year at ESTO 2023!
About Expedia Group Media Solutions
Expedia Group Media Solutions is a global travel advertising platform that connects marketers with hundreds of millions of travelers across the Expedia Group brands. With our exclusive access to more than 70 petabytes of Expedia Group traveler search and booking data, we offer advertisers actionable insights, sophisticated targeting, and full-funnel results reporting. Our suite of solutions includes display, sponsored listings, audience extension, co-op campaigns, and custom creative campaigns – all designed to deliver on the objectives of our advertising partners and add value for travel shoppers on our branded sites globally. With a consultative approach and more than 20 years of travel and media experience, we help our advertising partners inspire, engage, and convert travelers for meaningful results. For more information, visit www.advertising.expedia.com.
© 2022 Expedia, Inc., an Expedia Group company. All rights reserved. Trademarks and logos are the property of their respective owners. CST: 2029030-50