Americans are drinking less and looking for alternative ways to celebrate and bond
Ad Week – When Taleah Mona-Lusky got sober, she was told by people in both her professional and personal circles that she should also leave her career
in advertising behind. In an industry that celebrates winning a new client with rounds of shots and encourages drinking as a bonding activity, it
was difficult for them to understand how she would stay afloat.

"Work can be a trigger, and the 'work hard play hard' mentality is outdated," said Mona-Lusky, the president of full-service creative agency
Swift, adding that her office offers options for both drinkers and non-drinkers, such as beer and kombucha on tap. "There need to be options
and we need to have conversations about how to use drugs and alcohol safely."

Members of the advertising industry often use alcohol to rejoice, but curating both a social and professional culture that revolves around
drinking often leaves those in recovery—as well as those who simply wish to abstain from drinking—in the dark. Many employees have used the
pandemic to reevaluate their relationships with alcohol, and as they return to the office and feel pressure to participate in happy hours,
companies are under pressure to figure out how to craft more inclusive environments.

Cutting out booze is becoming more common in the U.S. According to data from Nielsen, non-alcoholic wine brand Surely has seen a 33%
increase in sales within the last year, and data from Morning Consult found that the share of those who drink at least once a week declined
across all beverage categories from October 2021 to March 2022, with beer dropping six points from 25% to 19%
Consumers with an annual household income of $100,000 or more are 10 points less likely to say they drink alcohol than they were last fall.
The CDC has also published new guidelines as of 2020 that have lessened the level of recommended drinking: Men are advised to have two
drinks or less in a day, and women one drink or less.

According to alcohol and addiction expert Dr. Joseph Volpicelli, society is inclined to characterize drinkers into two groups—those who struggle
with addiction and those who don't—but the reality is not so black and white.

"There's a huge gray area in which people might be drinking excessively and not realize they are suffering some consequences," he said. "These
people are likely to be better off by moderating their drinking or stopping altogether."

Volpicelli added that when any type of drinker uses alcohol to cope with either trauma or anxiety, this coping mechanism only compounds
mental health suffering. This cycle can contribute to feelings of stress and burnout that have been especially common throughout the ad
industry during the pandemic.

"Your anxiety doesn't just come back to the level it was when you started drinking, but it actually gets worse," he said. "It's like borrowing
money from the bank and then having to pay interest."
Making people comfortable
Mona-Lusky wishes there was more space for open conversations about sobriety across the ad industry, as she knows many going through a
similar journey that they don't feel comfortable discussing. She also stressed that folks in sobriety are hesitant to take advantage of resources
like FMLA due to the shame associated with addiction.

"I've been sober for five years, and it's taken me that long to feel comfortable enough to really talk about it," she said. "I want to talk about it
because there aren't many people who are."

Dodging questions about sobriety was one of the hardest parts of the journey for Mona-Lusky, who encourages peers to be more cognizant of
how their comments can contribute to suffering. She asserts that people shouldn't probe when someone abstains from drinking at a social
event and avoid asking how long someone has been sober, as the answer could be a day.

"We like to put people in boxes, but there are lots of ways to identify as a sober person other than 'alcoholic' and 'addict,'" she said, adding that
"not drinking is the least interesting thing about me."

A former member of an ad agency, who chose to remain anonymous, says that landing her first job in advertising was regarded with prestige,
as there was a popular sentiment that "if you could make it in advertising, then you have really made it." This high status came with a toxic
work culture, according to the source.

"Your normal coping mechanisms go out the window," she said. "You have no time to go to the gym and are working 12- to 13-hour days. It's a
mental vacuum for anyone prone to alcoholism."
When she didn't reach her usual three to four drinks per day, the source would suffer from cold sweats, shaking and panic attacks. She was
able to get sober by reducing her cravings through Vivitrol, an injectable medicine that combats alcohol dependence by blocking opioid
receptors in the brain. AA meetings, biweekly therapy and working through the trauma that led her to dependence has also supported the
source's sobriety.
Creating alternatives
When deciding to go sober, the source was worried about how this decision would impact her social circles. When working at the agency, she
remembers having "no other option" than to drink at work events. Despite pressure from friends, she set strong boundaries and regarded her
sobriety as a "badge of pride" instead of a point of shame.

Ziad Ahmed founded Gen Z-focused agency JUV Consulting when he was 16. While it was not only illegal for him and many of his employees
to drink, they also were barred from taking calls from alcohol brands.

As a Muslim American founder who abstains from drinking for religious reasons, as well as a believer in creating a culture of "empowering
young people," Amhed has no interest in putting alcohol at the forefront of social activities. Instead of meeting up at bars for happy hour, the
JUV team created a book club, organizes lunch and learns for holidays like Juneteenth and celebrated Pride by visiting historical LGBTQ+ sites
throughout New York City.

"It is important that there are spaces where you can bond with your teammates and not feel pressured to drink," he said. "We certainly don't
want JUV Consulting to look anything like the scenes in Wolf on Wall Street. We want to be the opposite of that in every conceivable way."
Tracy Tobin, the chief people officer at marketing consultancy company Adswerve, is also focused on bringing people together in ways that
don't revolve around alcohol, including volunteer events and extracurricular activities outside of work.

"Though alcohol will likely always be a factor, the ad industry can do more to make sure that it's not at the core of building a company culture
of employee connectivity," she said.
From engaging discussions during the day to exciting musical performances at night, Spotify Advertising brought the heat to the Croisette. Take our word for it: Our trip back to France was a hit. And before we bid au revoir, we want to relive all the festivities.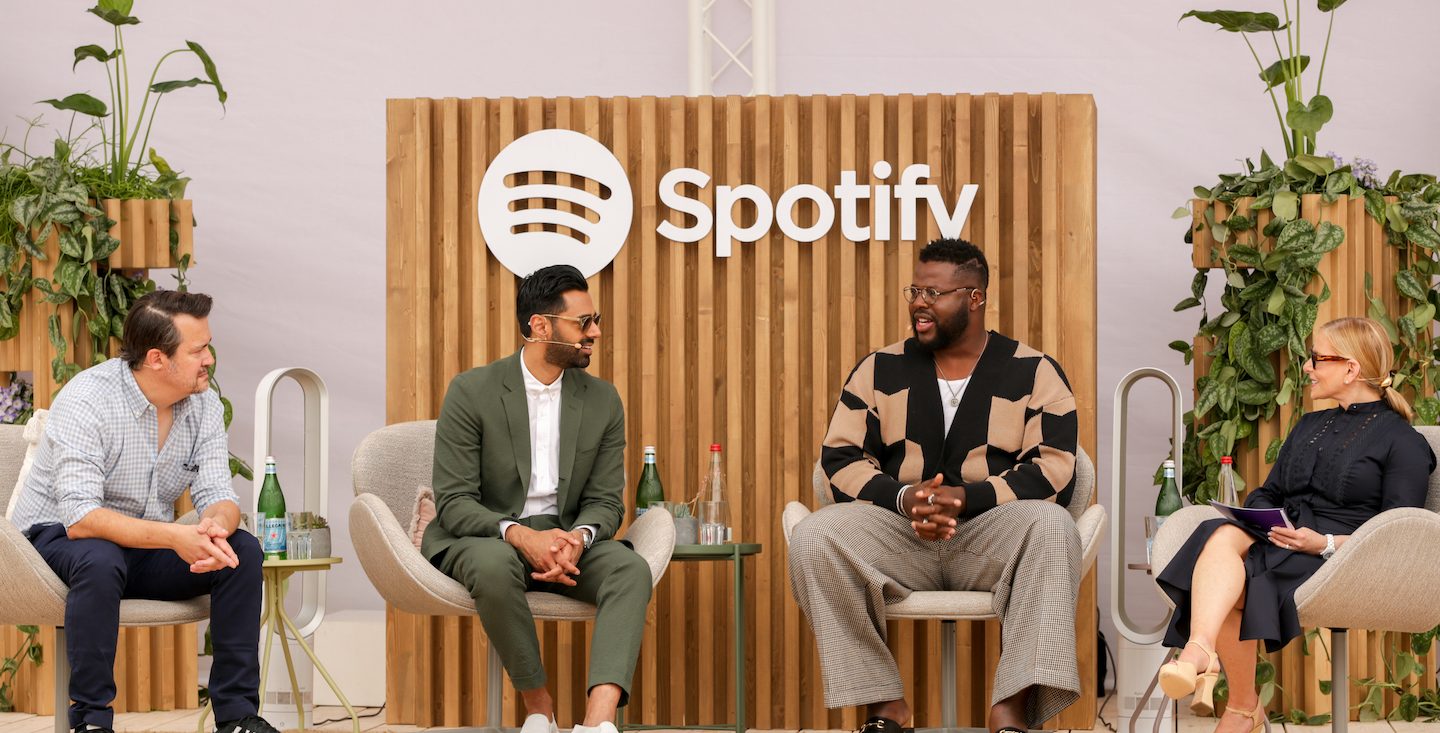 Tune in to Gen Z's listening habits
Spotify – On Monday, Spotify's Global Head of Public Affairs, Dustee Jenkins, moderated the panel "Who is Gen Z Really?" with Teenager Therapy cohosts Kayla Suarez and Thomas Pham and JUV Consulting Founder and CEO Ziad Ahmed. Collectively, they unpacked findings from Spotify's annual Culture Next report and focused on how Gen Z is listening and creating on Spotify as they navigate early adulthood—and what this means for brands trying to reach them. Here are some highlights from the panel.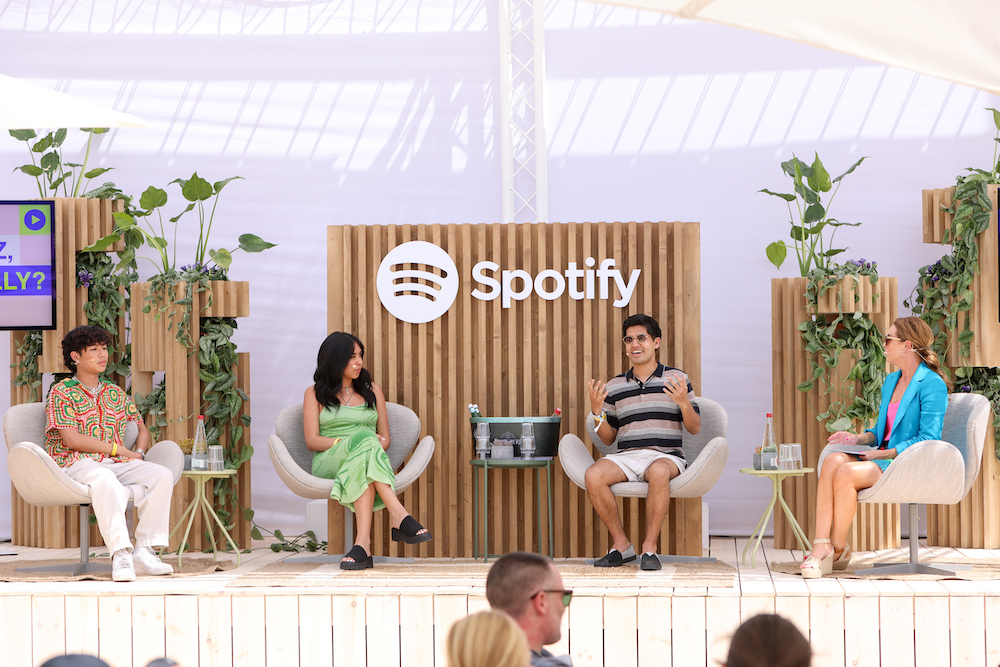 "With Gen Z, we want brands to be authentic and honest about their values and their fallbacks too. Gen Z can see if they're trying too hard or being fake. And that doesn't mean perfect. We aren't perfect either, but you have to tell the truth. It goes a long way with building a foundation of trust and honesty." – Kayla Suarez
"Brands talk for Gen Z. . . . I think the best way to get young people onboard is to include them in the conversation and let them have influence." – Thomas Pham
"Mental health being top genre for Gen Z—it doesn't blow my mind. It is surprising to me to meet a Gen Zer who self-identifies as happy. Especially coming out of the pandemic. Am I happy? Am I fulfilled? A lot of people came out of this with really mixed conclusions, and we had nowhere to turn for the next step . . . platforms like Spotify help us feel heard, seen, and inspired." – Ziad Ahmed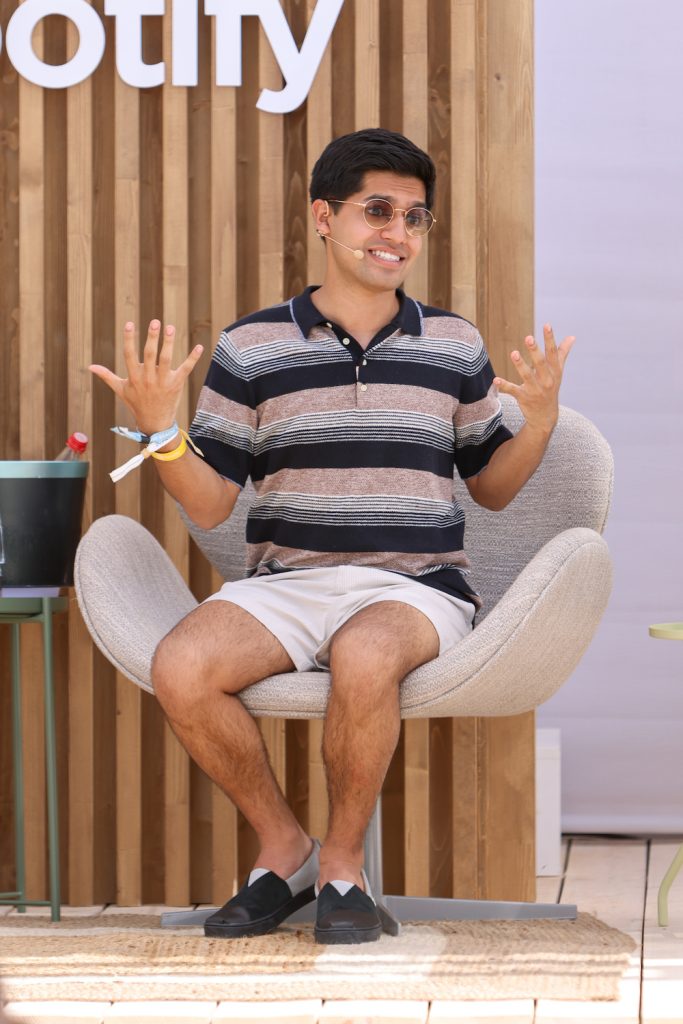 Maisie Williams and the power of authenticity
Also on Monday, Dustee sat down at Cannes' Female Quotient Lounge with Game of Thrones actress, activist, and producer Maisie Williams to talk authenticity, female empowerment, and her podcast, Frank Film Club with Maisie Williams. "Women in our industry always second-guess themselves, but you have to fight that and band together," Maisie explained during the talk. "There is a place for all women, and if you have an ambition or goal of who you want to be or what you want to do, you have to be relentless in getting yourself there." The actress also shared the artists she's currently listening to on repeat: Kate Bush and Grace Ives.
Bringing diversity front and center
On Tuesday, Jemele Hill, sports journalist and host of the podcast Unbothered, joined Cofounder and Vice President of the Society of Voice Arts and Sciences Joan Baker for "Representation Behind the Mic." Moderated by Spotify Vice President and Global Head of Marketing Taj Alavi, the group discussed the importance of diversity and ongoing efforts to bolster inclusivity. Here are some of the insights.
"I think outside voices are driving culture. I think when you think of the history of this country, culture has always been driven by marginalized communities." – Jemele Hill
"There are all kinds of voices of color; not everyone has to sound stereotypical to be a Black voice." – Joan Baker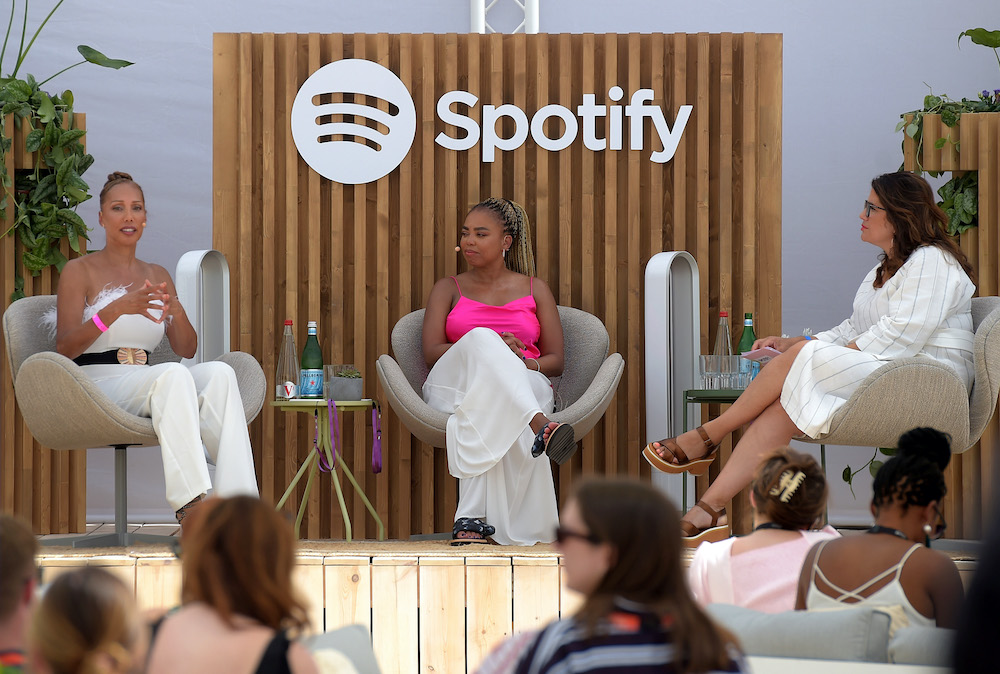 Gotham City comes to Cannes
Batman Unburied cemented its place in history as the largest Spotify Original fiction podcast global launch of all time. So at Cannes, we helped guests "Dive Into the Batman Audio Universe."
Spotify Chief Content Officer Dawn Ostroff hosted a discussion featuring key cast members and creative executives of the series: Winston Duke, voice of Batman/Bruce Wayne; Hasan Minhaj, voice of the Riddler; and Peter Girardi, EVP of Alternative Programming for Warner Bros. Animation. The conversation explored why audio was the perfect platform to tell this story, how acting for an audio series differs from film or TV, and the technology they utilized to give listeners a thrilling experience.
And fans of Batman Unburied got an extra surprise at the event: Spotify is bringing our fearless Caped Crusader back for season two, where more adventures await.
"With audio and podcast storytelling, particularly in this format, the user just needs to use their imagination. You have to imagine what you're seeing in your mind, and it's an incredible experience, calling upon each person to be more engaged." – Dawn Ostroff
"We [Warner Bros.] do so many different kinds of projects with the DC IP, and every medium allows you to tell a different kind of story. But one horizon that we've never been able to work in is audio-only. And the scale of the stories you can tell, and the different kinds of stories—it's very exciting for us and brings a new fan base and a new appreciation of the IP that we may have not reached [previously]." – Peter Girardi
"While we were recording Batman Unburied, it really felt like we were doing TV storytelling and a video game at the same time; it felt like a live RPG."- Hasan Minaj
"It's always been joked that Bruce Wayne's superpower has been white privilege, and I had to go through this period of really imagining and setting myself free to find a way in. This man who completely distrusts the justice system so much that he decides to take it into his own hands—this feels a lot more than the diasporic Black experience that I knew." – Winston Duke
And while these panels spiced up the day, Spotify kept the heat on the beach at night with our Spotify Beach parties. Over the course of the week, a star-studded guestlist saw performances by Marcus Mumford, DJ Pee .Wee (Anderson .Paak's alter ego), Kendrick Lamar, Dua Lipa, KAYTRANADA, Post Malone, and The Black Keys.
Click here to view additional photos from the Spotify events.
Newsweek – A Gen Z company is causing a stir after its work calendar was shared online, revealing hilariously named meetings, including "dumb b**** focus time."
A video shared to TikTok from a New York-based firm called JUV Consulting has amassed more than 1 million views after being posted earlier this month.
The clip, shared to @juvconsulting, was captained: "Chaotic is an understatement to describe my coworkers calendars."
The on-screen caption says "what a Gen Z agency team calendar looks like," as a man films various entries, including "pls let me grab a coffee" penciled in for 10.30am. "Skinny lunch break" takes from 12-1pm, while one person ensured they weren't disturbed by scheduling in "don't even think ab it: I'm clocked TF out."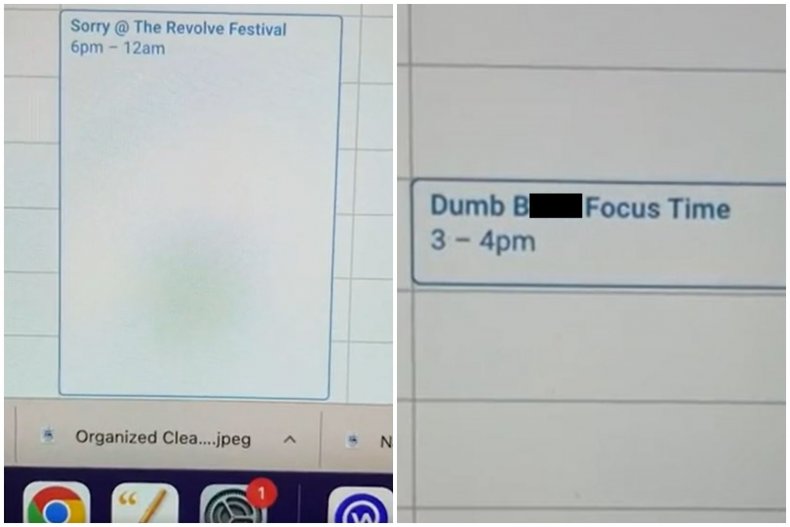 One music fan made time for "mid-day Megan Thee Stallion break," and one person begrudgingly wrote "scheduling this 1:1 bc I have to," and another employee put in the calendar "self care time."
The clip has gone down a storm online, with a follow-up shared to TikTok last week.
The part 2 included more unique meetings and entries, including "sorry @ the Revolve Festival," and a "weekly gossip sesh," a "chicken coop call," and someone else simply wrote "you know the drill, DONT TXT."
And some co-workers made time for "bestie dinner bc I love you and we are best friends."
Rachel Clark, associate director of social media, and director of brand, Kennedy Daniel, told Newsweek: "The funny meeting titles became an outlet for us to joke with one another while also getting work done. We definitely don't like to take ourselves too seriously and sometimes scheduling [Megan Thee Stallion] dance breaks is the way to make sure of that!
"While not everyone does their scheduling like this, this kind of openness is encouraged so we can schedule meetings when people can truly be present and engaged rather than be thinking about how they should have grabbed a coffee beforehand.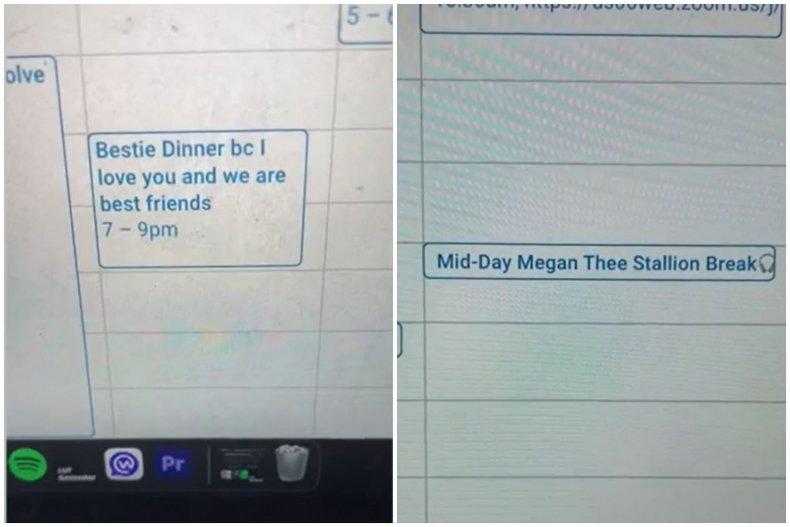 "A personal fave around here would definitely be the first one that kicked off these kinds of funny titles, "spa day at the virtual office bc capitalism is stressful." In the meeting, we literally showed up with face masks to use while we went through the agenda items.
"The tldr [too long; didn't read] of it is; the way Gen Z looks for and engages with jobs has changed—and the business world is a lil spooked by it. Having kombucha on-tap and overanalyzing Euphoria in the break room will only go so far in engaging Gen Z employees—we actually want to be aligned with the work we do and that the company as a whole does.
"With Gen Z soon to be a significant part of the workforce, brands really need to ask themselves how they can tackle the effects of 'The Great Resignation.'"
Numerous people commented on their most-viral video, praising the work atmosphere, as Kitty joked: "At least they're honest."
Your exBestie commented: "I just started working at a company like this and I'm obsessed. It's honest and makes me feel less trapped at my desk.
"Bestie dinner bc I love you and we are best friends." JUV Consulting
Laura Nelson admitted: "I do this and I'm a millennial. Just out here trying to make corporate life fun."
S8insDouche asked: "Question.. as a millennial… how do y'all not get fired? or yelled at?"
Harold raved: "I love them so much. I feel like Gen Z just inherited Gen X energy and then made it 10000x better."
Dr. Kristen Casey noted: "I love these work life boundaries."
And Lea added: "Can corporate life be like that all the time pls."
JUV Consulting explained more about their brand on their website, saying they are: "A Gen Z community working with clients to center the voices of diverse young people."
The start-up was created by teenagers, as the site went on to say: "We were founded by three 16-year-olds in 2016 who found themselves in rooms with politicians, leaders, and 'youth experts' who were constantly talking about how to engage Generation Z without actually talking to us."
Gen Z refers to people born after 1997, with the Pew Research Center defining those born 1981 and 1996 as millennials, anyone born between 1965 and 1980 as Gen X, and baby boomers as those born between 1946 and 1964.
The latest defined generation is now part of the workforce, with research on company culture, from website Great Place to Work, revealing the cohort to be more discerning when it comes to their employers.
The site collated responses from more than 32,000 Gen Zers from 350 companies across the U.S.
They said: "In our survey results, Gen Z returned lower marks for their employers than any other generation and were more likely to intend to leave.
"They're also more discerning than other generations when it comes to finding a sense of purpose in their work, with an 8-point drop from other generations for the statement, 'My work has special meaning.'"
Update 4/29/22, 5:36 a.m. ET: This article was updated with comment, video and photos from JUV Consulting. The headline was also modified.