Newsweek – A Gen Z company is causing a stir after its work calendar was shared online, revealing hilariously named meetings, including "dumb b**** focus time."
A video shared to TikTok from a New York-based firm called JUV Consulting has amassed more than 1 million views after being posted earlier this month.
The clip, shared to @juvconsulting, was captained: "Chaotic is an understatement to describe my coworkers calendars."
The on-screen caption says "what a Gen Z agency team calendar looks like," as a man films various entries, including "pls let me grab a coffee" penciled in for 10.30am. "Skinny lunch break" takes from 12-1pm, while one person ensured they weren't disturbed by scheduling in "don't even think ab it: I'm clocked TF out."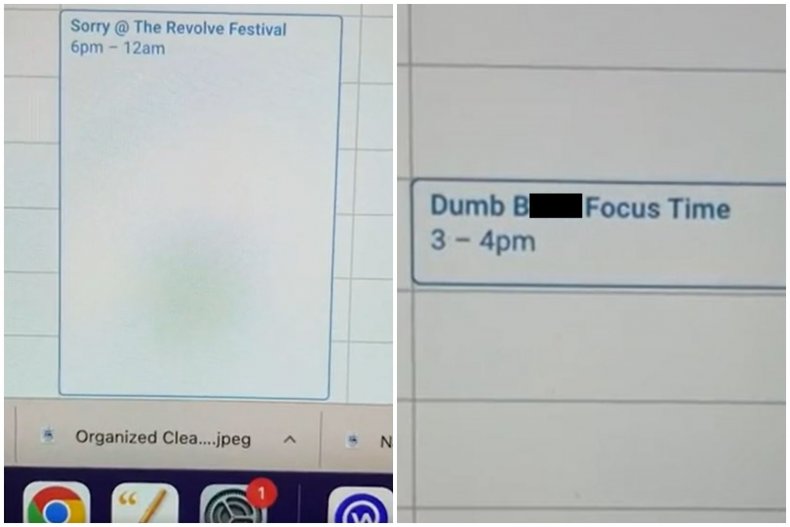 One music fan made time for "mid-day Megan Thee Stallion break," and one person begrudgingly wrote "scheduling this 1:1 bc I have to," and another employee put in the calendar "self care time."
The clip has gone down a storm online, with a follow-up shared to TikTok last week.
The part 2 included more unique meetings and entries, including "sorry @ the Revolve Festival," and a "weekly gossip sesh," a "chicken coop call," and someone else simply wrote "you know the drill, DONT TXT."
And some co-workers made time for "bestie dinner bc I love you and we are best friends."
Rachel Clark, associate director of social media, and director of brand, Kennedy Daniel, told Newsweek: "The funny meeting titles became an outlet for us to joke with one another while also getting work done. We definitely don't like to take ourselves too seriously and sometimes scheduling [Megan Thee Stallion] dance breaks is the way to make sure of that!
"While not everyone does their scheduling like this, this kind of openness is encouraged so we can schedule meetings when people can truly be present and engaged rather than be thinking about how they should have grabbed a coffee beforehand.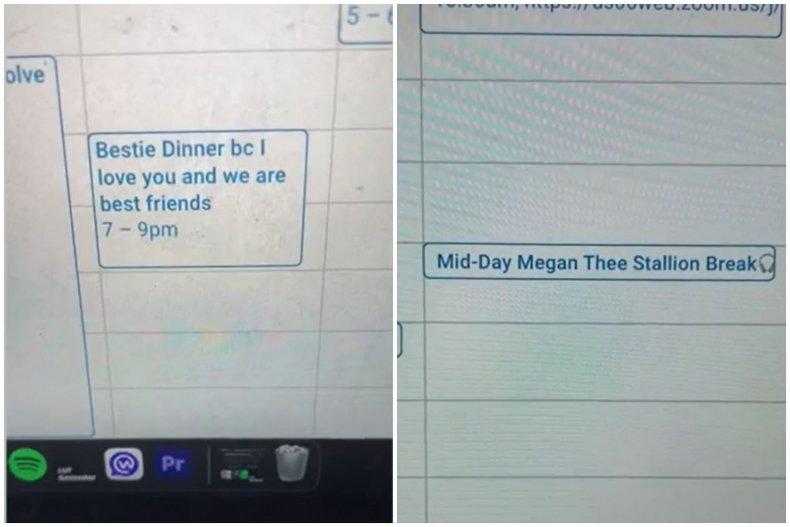 "A personal fave around here would definitely be the first one that kicked off these kinds of funny titles, "spa day at the virtual office bc capitalism is stressful." In the meeting, we literally showed up with face masks to use while we went through the agenda items.
"The tldr [too long; didn't read] of it is; the way Gen Z looks for and engages with jobs has changed—and the business world is a lil spooked by it. Having kombucha on-tap and overanalyzing Euphoria in the break room will only go so far in engaging Gen Z employees—we actually want to be aligned with the work we do and that the company as a whole does.
"With Gen Z soon to be a significant part of the workforce, brands really need to ask themselves how they can tackle the effects of 'The Great Resignation.'"
Numerous people commented on their most-viral video, praising the work atmosphere, as Kitty joked: "At least they're honest."
Your exBestie commented: "I just started working at a company like this and I'm obsessed. It's honest and makes me feel less trapped at my desk.
"Bestie dinner bc I love you and we are best friends." JUV Consulting
Laura Nelson admitted: "I do this and I'm a millennial. Just out here trying to make corporate life fun."
S8insDouche asked: "Question.. as a millennial… how do y'all not get fired? or yelled at?"
Harold raved: "I love them so much. I feel like Gen Z just inherited Gen X energy and then made it 10000x better."
Dr. Kristen Casey noted: "I love these work life boundaries."
And Lea added: "Can corporate life be like that all the time pls."
JUV Consulting explained more about their brand on their website, saying they are: "A Gen Z community working with clients to center the voices of diverse young people."
The start-up was created by teenagers, as the site went on to say: "We were founded by three 16-year-olds in 2016 who found themselves in rooms with politicians, leaders, and 'youth experts' who were constantly talking about how to engage Generation Z without actually talking to us."
Gen Z refers to people born after 1997, with the Pew Research Center defining those born 1981 and 1996 as millennials, anyone born between 1965 and 1980 as Gen X, and baby boomers as those born between 1946 and 1964.
The latest defined generation is now part of the workforce, with research on company culture, from website Great Place to Work, revealing the cohort to be more discerning when it comes to their employers.
The site collated responses from more than 32,000 Gen Zers from 350 companies across the U.S.
They said: "In our survey results, Gen Z returned lower marks for their employers than any other generation and were more likely to intend to leave.
"They're also more discerning than other generations when it comes to finding a sense of purpose in their work, with an 8-point drop from other generations for the statement, 'My work has special meaning.'"
Update 4/29/22, 5:36 a.m. ET: This article was updated with comment, video and photos from JUV Consulting. The headline was also modified.